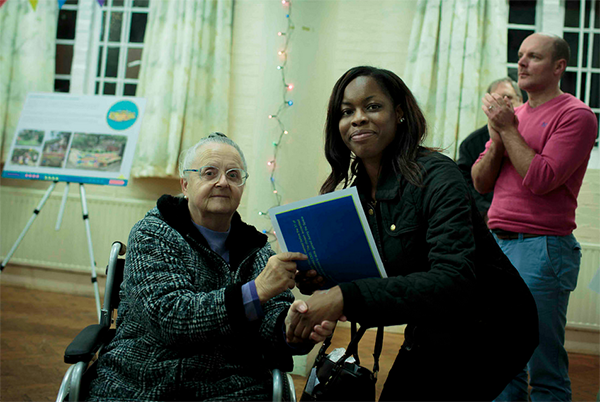 Young volunteers were celebrated at a community event in South Lewisham to launch five new community landmarks that they helped to create.
The new sites were created as part of the Space Invaders project and guests at the event were able to find out more about the project, hear directly from the young people involved and using their own pedal-power, enjoyed a free community film screening. Attendees were kept warm by a barbecue and a fire-breather.
The Space Invaders project has helped to rejuvenate five forgotten green corners in Bellingham, Downham and Whitefoot, with young people from across Lewisham volunteering throughout the summer holidays to design and build the new environmentally friendly sites.
More than 250 residents attended consultation sessions before the works began, to give their views and support of the plans that the young people had created.
The whole community is now able to enjoy unique green spaces that feature new seating, a pop-up art gallery, wildflowers and wildlife habitats including bird boxes and bug hotels.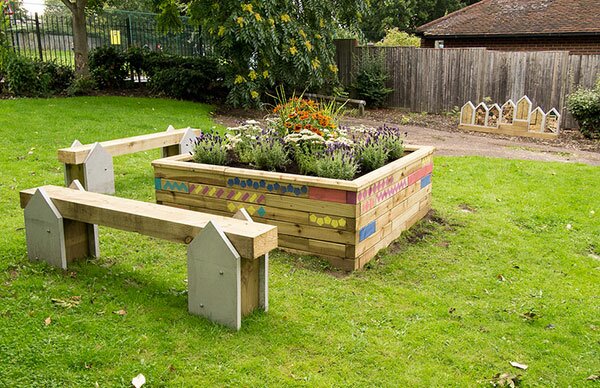 Space Invaders is an environmental project delivered by social landlord Phoenix Community Housing and adventure learning charity Wide Horizons. The project was awarded £50,000 of funding from The People's Millions, a partnership between Big Lottery Fund and ITV, in November 2014 following a public vote.
At the event, which took place in Downham on Monday 23 November, young volunteers were thanked and presented with certificates in recognition of their commitment to the area and hard work throughout the project. As part of the funding awarded by The People's Millions, a limited number of £500 bursaries were awarded to some of the young volunteers, to support further environmental training.
17 year-old volunteer Shania Wallace said: "The Space Invaders project was something that looked fun to do in the summer and keep me busy. I'm glad I took part.
"I'm really pleased to have been given a bursary too, it'll give me the chance to learn more about the environment. And it's something else I can add to my CV."
Phoenix Chief Executive, Jim Ripley said: "It's great to see so many people come together for this event and celebrate our unique community and the hard work of our young residents. I encourage everyone to pick up a map and take the Space Invaders tour!
"Space Invaders is a fantastic project that shows just how much can be achieved when we work together with our residents and partners.
Wide Horizons Chief Executive, Alex Brooks-Johnson, said: 'The project was a huge achievement for the community and it is great to see how the green spaces have been regenerated to encourage new wildlife and engage local people with nature.'
To find out more and to request a special, illustrated map of all five sites, please contact Phoenix on 0800 0285 700 or visit www.phoenixch.org.uk